Jamie Mayers – Class of 2011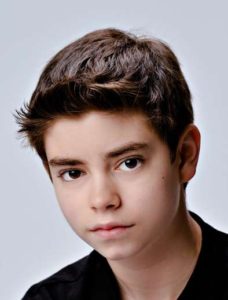 Name:   Jamie Mayers
Graduating Year: 2011
High School: St George's High School
Profession: Actor
1. How did Akiva prepare you for high school? 
Akiva prepared me tremendously in all academic areas. When I got to High school, I did not at all feel overwhelmed by the new material or classes. As well, Akiva helped me prepare emotionally for the transition into high school. I knew what to expect and had developed skills at Akiva that made the adjustment very smooth.
2. What was the most important thing that you learned from your experience at Akiva? 
One of the most important things I learned at Akiva from my teachers and mentors was to challenged myself to be the best that I could be. To always give 100% in everything I do.
 3.  What were your fondest memories at Akiva?
Some of my fondest memories of Akiva were spent with the friends I made, who are now life long friends of mine. I also have many great memories of being in the Akiva productions where I developed my love of theatre and performing.
 4. Why should a parent choose to send their child to Akiva?
There are many places a child can learn. A child can learn in school, and a child can learn at home. Akiva is a very special place where the two come together. It has a warmth like no other place, and will always have a special spot in my heart. Akiva is not just a place to learn, but a place where you develop a love of learning.
 5.  What was your desired profession when you graduated Akiva?  Where are you at now? 
Ever since kindergarten, and my first moment on stage as the lollipop guild munchkin in the Akiva production of the Wizzy Wizard of Oz, I have always wanted to perform and be involved with the acting profession. Since Akiva, I have performed in many shows in and around Montreal. Currently, I am about to start production on a new Ytv series called The Game. I am beyond excited, and will always thank Akiva for my start.