Naomi & Sam Fayer Innovation Lab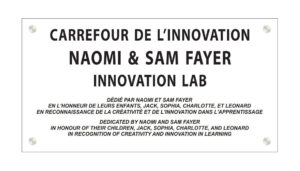 The Naomi & Sam Fayer Innovation Lab provides a rich environment for STEAM programming and creative, active learning.
 At Akiva School, we believe in unleashing our students' unique strengths and tapping into their innate curiosity to learn and grow. Our Naomi & Sam Fayer Innovation Lab is a platform for driving this belief and showing our students "If you dream it, you can make it".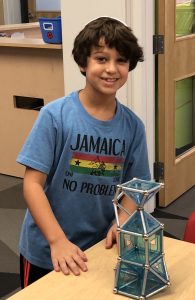 The Lab is used to support our unique programming and our STEAM focus, bringing new project-based learning to life and enabling our teachers to expand our curriculum with respect to robotics, science and art.  Through the resources in the Innovation Lab, our students are inspired to collaborate, create, and confidently take charge of their own learning.  Our students, from Kindergarten through grade 6, are empowered, through formal and informal learning, to become part of a global community of designers, creators and inventors, all linked by motivation to continually improve and learn more.  Our teachers play the role of facilitators encouraging students to explore and experiment in a safe space where a love of learning is fostered.
An Active and Dynamic Learning Ecosystem 
The Innovation Lab focuses on supporting a student-centered pedagogy where teachers guide students through multi-faceted projects, positioning curriculum within a social, cultural and community context. Students acquire a deeper knowledge through inquiry-based learning, project-based learning, and authentic learning opportunities.
The Lab has been designed with project fluidity and idea expansion in mind. From conception to creation, students move across the design process within different segments of the space. Mobile technologies and flexible furniture allow the space to be configured to adapt to teaching preferences and group dynamics.