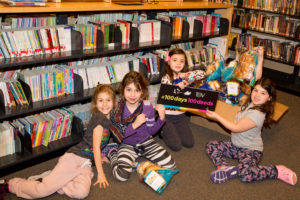 Akiva School Celebrates Community and Acts of Kindness with "Mensch Madness" Parent Day
Wednesday, December 7th, 2016; – Akiva School held our 11th annual Parent Day, this year entitled "Mensch Madness".   Akiva's Parent Day is a day dedicated to a specific theme in which Akiva students participate in a range of fun and educational activities organized and run by over 90 Akiva parent volunteers.  "Mensch" is a Yiddish term that refers to a person of integrity and honor and this year's theme, "Mensch Madness", is built upon our overall school focus on community and being kind to others.
"We have a unique partnership with the parents at our school where everyone is deeply invested in their children's education," said Jennifer Fraenkel, Head of School at Akiva School.  "Every year, a team of dedicated Akiva parent volunteers step in and lead an entire day of special activities for the school; a phenomenon you won't find at many other schools in Montreal.  We are very proud of this year's "Mensch Madness" that mirrored our school's focus on educating the whole child and helped remind our students of their role in the bigger picture, as members of a community and as citizens that help others in need."
Akiva students participated in a full day dedicated to mitzvoth (good deeds) and kindness to others, many times helping third party organizations help others.  For example:
Preparing cards and candy for Agence Ometz for immigrating families and families in need
Packing Chanukah gift bags (gelt and dreidels) for customers of Le Café, Federation CJA's dignified, kosher soup kitchen
Helping with Shabbat kits for JEM workshop employees
Putting together candy jars for CHAI Lifeline supporting families
This year, Akiva School is proud to have received funding from Federation CJA's Centennial Community Outreach Grants for dedicating the day to fulfilling mitzvoth in honour of their Centennial anniversary. Federation CJA has played an integral role in supporting and planning the day with Akiva parent organizers, and also had representatives on hand for the event, which was a part of Federation CJA's TOV #100days100deeds initiative.
About Akiva School
Originally founded in 1968 by a group of committed parents led by Rabbi David Hartman, Akiva School is a Jewish Elementary School dedicated to enabling every child to reach his or her highest potential in terms of academic success, personal growth and engagement in Judaism.  Through a strong partnership of school and home, Akiva School fosters a nurturing and collaborative educational environment to promote a love of learning and creative, independent thinking.  For more information on Akiva School, please visit our web site at www.akivaschool.com.
About Federation CJA
Federation CJA is the driving force in a vibrant Montreal Jewish community. In partnership with a network of agencies and organizations, Federation builds and sustains this community by providing leadership and by supporting the delivery of services and programs to care for the vulnerable and those in need, to ensure a bright Jewish future, to represent and defend communal interests and to positively affect issues in the wider society.